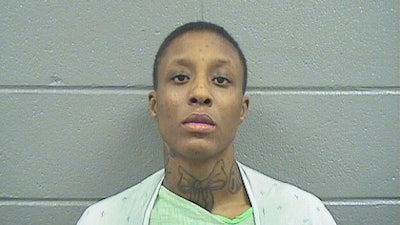 A 25-year-old woman who shot a Chicago Police officer "in the heart area" of his bullet resistant vest had warned the officer and his partner they "did not want to mess with her" moments before she opened fire, prosecutors said at a hearing for Deangela Eaton on Tuesday.
The two officers were wearing plainclothes — with body armor — and in unmarked SUV around 2:30 p.m. May 12 when they spotted Eaton making what appeared to be a drug deal in West Garfield Park.
The officer in the passenger seat climbed out of the SUV and called out to Eaton, who was walking away. Eaton said "she was not going to speak with him, and they didn't want to mess with her," Assistant State's Attorney Joe Carlson said.
The officer chased Eaton as she ran, clutching a pistol on her left side; the second officer drove alongside them in the SUV. She reportedly fired at one of the officers striking him in the "heart area" of the vest.
The officers returned fire. Eaton was shot in the leg, shoulder and abdomen, and required surgery at Stroger Hospital.
The officers found a jammed 9mm pistol more than 25 feet from where Eaton collapsed, the prosecutor said.