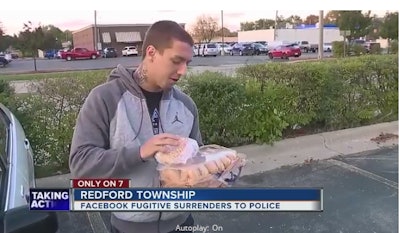 A fugitive who taunted Redford, MI, police on Facebook surrendered Monday night and even followed through on a promise to deliver a dozen donuts after losing a bet with officers.
Michael Zaydel challenged Redford police to get more than a thousand shares of a "wanted" bulletin on Facebook. He offered to turn himself in and deliver the sweets once it happened.
Zaydel was wanted for probation violation related to a DUI and other charges, WXYZ TV reports.
Officers working at the station thanked him for the donuts soon after he arrived, and just prior to making an official arrest.