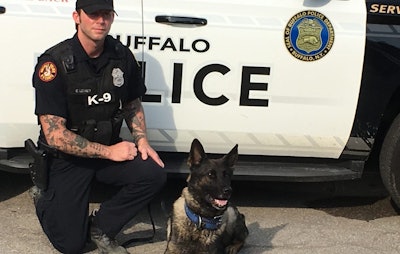 Officer Craig Lehner of the Buffalo Police Department brought his dog Shield with him Friday, when he drove to the Niagara River for training with other police divers.
So Shield remained in his air conditioned kennel, in the back of a police vehicle, while Lehner began his underwater exercise.
Hours later Lt. Salvatore Losi and several other officers in his unit had to open the door and allow the 85-pound German Shepherd to get out.
"It was kind of spooky," Losi told the Buffalo News. "We all got tears in our eyes and choked up a little. When we opened the door, he knocked us out of the way, myself and a couple of other handlers, and he ran down to the river and started running back and forth, searching."
The dog somehow understood.