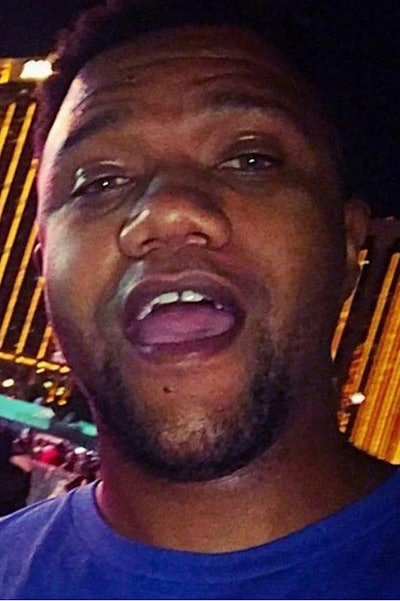 Charleston Hartfield, an off-duty Las Vegas police officer and recently published author of a memoir about life on the force, was killed Sunday night in the mass shooting on the Strip.
Officer Hartfield, a 34-year-old military veteran known as Charles, Chucky or "ChuckyHart," also coached youth football, said Troy Rhett, who told the Las Vegas Review-Journal the two had known each other for about eight years.
Rhett said he sent Hartfield a text message late Sunday night, "hoping he would text me back." Rhett said, "I figured he was probably busy helping others." Rhett said.
Hartfield posted an image of the Route 91 country music festival on his Facebook page Sunday evening, hours before a gunman shot into the concert crowd, killing at least 59 people. Another friend, Stan King, posted "RIP Brother" on Hartfield's page Monday morning.
Hartfield, a married father of a son and daughter, authored a book published in July titled "Memoirs Of A Public Servant," whose cover he used as a profile picture online.
On an Amazon page for the book, Hartfield is described as having 16 years of active military service along with 11 years in law enforcement.
The page also describes him as "a public servant from the early age of 18 who is committed to bridging the gap with no filters or shaded perceptions."
Hartfield was a sergeant 1st class in the Nevada Army National Guard, assigned to the 100th Quartermaster Company, based in Las Vegas.
"Sgt. 1st Class Hartfield epitomizes everything good about America," said Brig. Gen. Zachary Doser, commander of the Nevada Army National Guard.