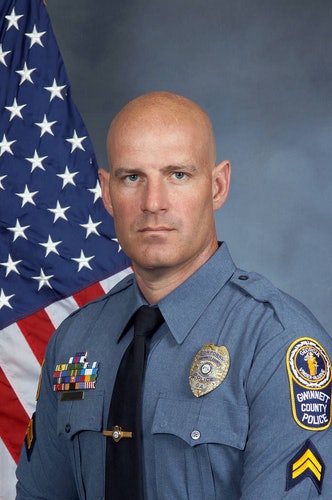 An 11-year veteran of the Gwinnett County (GA) Police Department who was co-piloting a helicopter that crashed during a storm Sept. 1 is paralyzed from the waist down, reports the Atlanta Journal-Constitution.
Cpl. Michael Duncan, 46, was one of two officers in the helicopter when it crashed 200 yards short of the runway at Briscoe Field in Lawrenceville, GA. The other, Officer George McLain, 38, is recovering from unspecified injuries. McLain has been with the department nearly two years, since January 2016.
They were assisting with a search for a wanted person that morning. They noticed a storm was coming and decided to return to Briscoe Field, where the department's two helicopters are stationed. They lost control of the helicopter and crashed. Heavy wind was believed to be a factor.
Duncan has been transferred to the Shepherd Spinal Center in Atlanta.
Related: 2 Officers Hurt in Police Helicopter Crash Near Atlanta