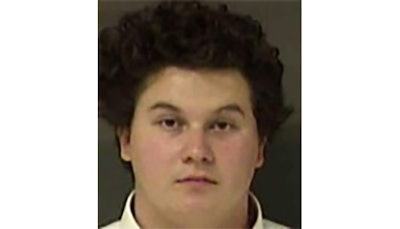 A teen was sentenced to prison Monday after pleading guilty to shooting a Cornelius, NC, police officer while wearing a ballistic vest in 2015, reports WBTV.
The District Attorney's office says 19-year-old Greyson Ferrell pleaded guilty in August to assault with a deadly weapon with intent to kill inflicting serious injury and assault with a firearm on a law enforcement officer.
Lt. James Quattlebaum and officer Jeffery Heinz of the Cornelius Police Department responded to a domestic violence report at a Cornelius home in May 2015 when Ferrell walked down the stairs in a bullet-proof vest and shot Quattlebaum, the DA says. Ferrell was 16 at the time.
Officer Heinz then fired at Ferrell, whose vest stopped the bullets but knocked him to the floor.
Quattlebaum was seriously injured and hospitalized but officials say his vest protected him from what would have been a life-threatening injury.
Ferrell was sentenced to between about 7 years and 10 years in prison, reports the Associated Press.