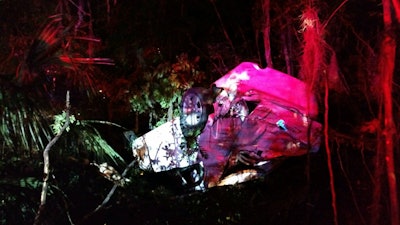 A Florida deputy is credited with saving a traffic crash victim's life after holding a vehicle up before it could crush him, reports Fox News.
On Sunday, a Citrus County deputy responded to the crash near State Road 44 and South Cove Walk. When he arrived he saw the vehicle sitting upside down in the woods. The driver was ejected and the passenger was trapped under the vehicle.
According to officials, the deputy, who Citrus County Sheriff officials called "Deputy Indorato" in the agency's Facebook post, held the vehicle above the victim's head, and used the side of his face to relay information on his radio.
He held this position until a second deputy arrived, and both were able to lift the vehicle enough for others to pull the passenger out from underneath it.
The driver was transported with non-life threatening injuries and the passenger had severe injuries.
"If it was not for Deputy Indorato's quick response and getting the information to other deputies, the passenger would have been crushed by the vehicle" the agency wrote in its Facebook post. "This was great team work! THANK YOU to our first responders!"