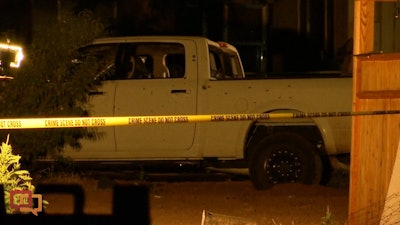 A carjacking at a St. George, UT, gas station late Tuesday night led to a police shootout in a residential neighborhood in Santa Clara that resulted in a police K-9 and the carjacking suspect being shot. Both the K-9 and the suspect underwent surgery for their injuries early Wednesday morning, reports the St. George News.
Authorities said the ordeal began around 11 p.m. Tuesday when officers were responding to a report of a disturbance involving a man throwing objects at the Mira Monte Sinclair Station.
While officers were en route to the call, the suspect took a white truck by force, Washington County Critical Incident Task Force Investigations Director Barry Golding said. The owner of the truck notified police that an AR-15 assault rifle was in the back seat of the truck, Golding added.
The suspect took off in the truck before crashing the vehicle up the street and then stealing a different white truck, which the suspect also crashed, police said.
"Police show up, the adult male is still in the truck. They try to talk to him and they try to negotiate him out of the truck. In the process, a K-9 was deployed. The K-9 got into the vehicle at which point the adult male subject shot the K-9. At that point, multiple officers from multiple agencies fired upon (the vehicle) and they struck him," said Golding.
Washington County Sheriff's Department K-9 Tess was shot in the jaw, officials said.
The 7-year-old Belgian Malinois was in stable condition after being treated at Las Vegas Specialty Center and was scheduled to head home, reports KSNV.