An effort to stop a driver suspected of speeding through Margate, FL, led to a police chase through two cities and into the Everglades before the motorist was captured at a church and accused of trying to run over a police officer, authorities say.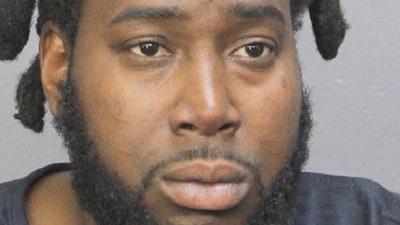 It was about 2:40 a.m. Saturday when Margate Police Officer Michael Sprouse was following a black Honda with an expired tag that was moving at 50 mph in a 35 mph zone, according to Sprouse's arrest report.
When Sprouse used his lights and sirens, the Honda ran a red light, the report said. Officers found the Honda at a Chase bank branch in Coral Springs, reports the Sun Sentinel.
With his patrol car facing the Honda head on, Sprouse wrote that he got out and pointed his gun at the driver, David Eugene, 30, of Coral Springs.
Ignoring Sprouse's orders to stop, Eugene reportedly drove the Honda in reverse, then drove forward at the officer who moved away, toward a building. Eugene backed the Honda up a second time and came forward, striking Sprouse's legs with the car, the officer wrote in his report.
Sprouse was treated for injuries to his knees at the scene of Eugene's arrest and returned to full duty, Margate Police Sgt. Efrain Suarez said.
The driver then reversed the car and fled, eventually running into the Everglades and out again. He was found by a Coral Springs (FL) PD K-9 and arrested.
In addition to the charge of attempted murder while engaged in a felony offense, Eugene also faces charges of aggravated battery on a police officer; heroin trafficking; cocaine possession; resisting an officer without violence; resisting an officer with violence; fleeing without regard to the safety of persons or property; speeding; having an expired tag and two counts of disobeying a red light.