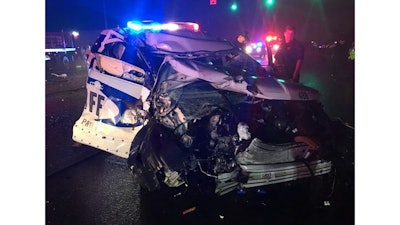 A Caddo Parish Sheriff's deputy, who was injured Tuesday when his patrol vehicle struck a tractor-trailer, is in good condition following surgery, Bill Strother, spokesman for University Health, said Thursday.
Dep. Joseph Fourcade was driving to assist another deputy just after 6 p.m. He was headed south on Bert Kouns when Bryan James, 27 of Shreveport, the driver of the tractor-trailer headed north, turned left onto Julie Frances Drive.
Fourcade's patrol car hit the tractor-trailer's rear axle. Both vehicles had a green light, the Shreveport Times reports.