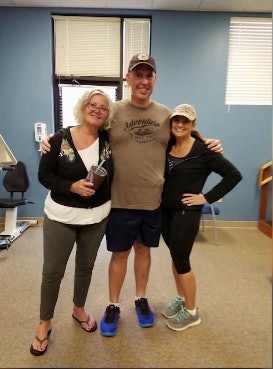 Orange Park Medical Center trauma nurses call him a "Christmas Miracle." Drew Stokes, an agent with U.S. Customs and Border Protection Air and Marine Operations in Jacksonville, was shot five times in September in Clay County -- targeted on his lunch break simply because he was dressed in his law enforcement uniform.
"I immediately went to the ground, had my weapon out ,and was waiting for him to come back around, and then that's when somebody came back and told me the threat had been eliminated," Stokes recalled about being shot outside an Oakleaf Publix on Sept. 26, 2017.
Now, nearly three months later and less than a week before Christmas, the Aviation Enforcement Agent wants everyone to know how thankful he is to those who saved his life, those who have given him the chance to spend the holidays with his family, and those who have made it so he can soon return to his job of protecting the nation's borders from the air.
He not only credits the OPMC trauma team for getting him through, but also his wife, Amanda, his family, his co-workers, along with his own motivation to return to his passion of serving his country.
Agent Stokes says he's met so many wonderful people through this experience -- from the doctors and nurses to the physical therapists and his wound care nurse. He also said he now has a special bond with Clay County Deputy Jacob Hawkins, who was the first officer on the scene after he was shot. When News4Jaxasked what it's like having a relationship with Hawkins, Stokes smiled big and said, "It's awesome!"