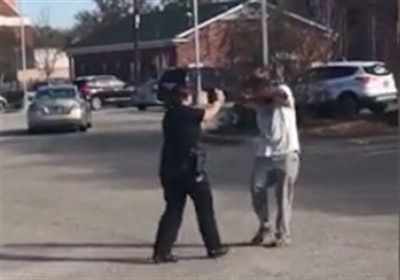 VIDEO: Good Samaritan Helps SC Officer Subdue Resisting Suspect
A man who allegedly assaulted a woman and threatened her and others with a knife at a Columbia, SC, gas station before resisting arrest was subdued with the help of a good Samaritan Tuesday.
The incident was captured on cellphone video and posted to Facebook.
Donald Songster Brown, 39, was charged with Attempted Murder, Armed Robbery, Kidnapping, Possession of a Weapon during the Commission of a Violent Crime and Resisting Arrest.
Brown allegedly punched a woman in the face and threatened to harm her and another person with a knife, then wouldn't let them leave the gas station, police said.
A Columbia Police officer approached Brown in the parking lot, according to police, who said Brown appeared irate. Brown resisted arrest, even after the officer used a TASER and OC spray on him, the video shows. At one point the officer was knocked to the ground, and that's when a civilian tackled the suspect. Brown was taken into custody, the State reports.