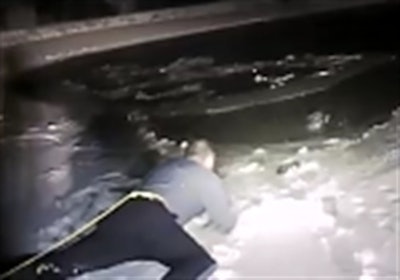 VIDEO: NJ Officers Rescue Drowning Dog from Icy Pond
Officers from the Hopewell Township (NJ) Police Department responded Friday night to a report that a dog had fallen through the ice into a pond and could not get out.
Officers Robert Voorhees and George Peterson, along with Hopewell Valley Emergency Services and Pennington Fire Company personnel arrived at the scene to assist the dog's owner.
Officer Voorhees volunteered to be fastened to a rope and crawled out on the edge of the ice toward the dog named Nisel. Nisel swam toward Officer Voorhees who grabbed her by the collar. Officer Peterson and Specialist Dave VanDoren then pulled Officer Voorhees and Nisel to safety.
Nisel and her owner were happily reunited, the agency's Facebook page reports.