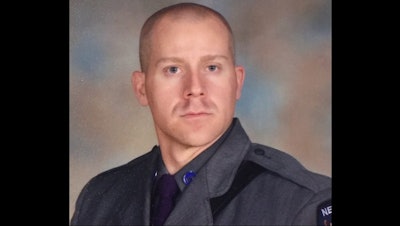 A New York state trooper was struck by a vehicle as he helped a motorist broken down on an entrance ramp on the Long Island Expressway Monday afternoon and seriously injured.
Trooper Joseph J. Gallagher, 35, was in serious condition Monday night at Southside Hospital in Bay Shore after undergoing surgery, police said. State Police said Tuesday morning that there was "no update on his condition at this time."
"We're all hoping and praying," Thomas H. Mungeer, president of the New York State Troopers Police Benevolent Association, said Gallagher suffered an "extreme, traumatic head injury" when a vehicle struck him along a sharp turn on an overpass ramp to the southbound Sagtikos in the Commack area, police said.
The vehicle hit Gallagher at 2:32 p.m. after he responded to a dispatch call for a disabled vehicle in the left lane of the two-lane entrance ramp from the westbound Long Island Expressway, said Maj. David Candelaria, the commander of Troop L in Farmingdale, speaking at a hospital news conference early Monday night, Newsday reports.
Gallagher parked behind two disabled vehicles with his lights flashing, Candelaria said. He began setting up flares, Candelaria said, when two oncoming vehicles veered to the right to avoid Gallagher. The driver of a third vehicle "did not see the trooper" and struck him, Candelaria said.