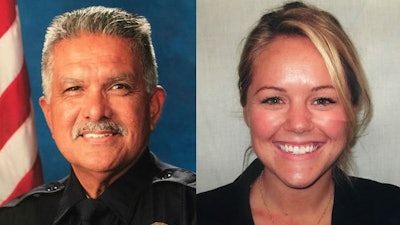 A 27-year-old ex-con charged with the ambush killings of two Palm Springs police officers at his home last year was ordered Friday to stand trial on charges that could land him on death row.
John Hernandez Felix, 27, is accused of fatally shooting veteran training Officer Jose Gilbert Vega, 63, and rookie Officer Lesley Zerebny, 27, on Oct. 8, 2016, after the officers responded to a family disturbance call. Testimony earlier this year indicated the 911 call that preceded the gunfire was sparked by a fight between Felix and his sister over a remote control, NBC Los Angeles reports.
Riverside County Superior Court Judge Anthony R. Villalobos, following a two-hour preliminary hearing, ordered Felix to proceed to trial on two counts of murder, six counts of attempted murder -- three of which were newly added and pertain to officers who were fired on in front of the defendant's Cypress Avenue home -- and special circumstance allegations of killing a peace officer and committing multiple murders.
The hearing featured testimony from sheriff's investigators who interviewed Palm Springs officers involved in the firefight, as well as a sheriff's SWAT member who took Felix into custody following a 12-hour standoff, in which he barricaded himself inside the house.