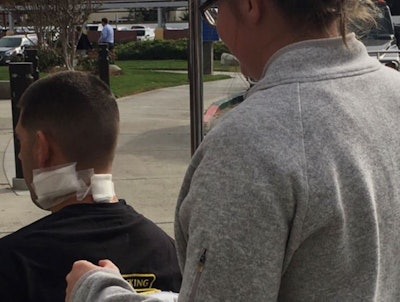 A Los Angeles County Sheriff's deputy and a suspect were wounded during a shootout in Santa Clarita, CA, Tuesday night. The deputy has been treated for a neck wound at a local hospital and released.
Deputies responded to an assault with a deadly weapon call at an apartment complex just after 10 p.m., the Los Angeles County Sheriff's Department stated in a news release.
As they were searching the area, the deputies encountered one of the two suspects in the parking area near the pool.
The man began to shoot at the deputies and they returned fire, Lt. Joe Mendoza said.
Both the suspect and one of the four deputies who responded to the call were struck by the gunfire, the news release stated.
The suspect, identified only as a 29-year-old Hispanic man, was struck in the torso. His condition was unknown, Mendoza told KTLA TV.