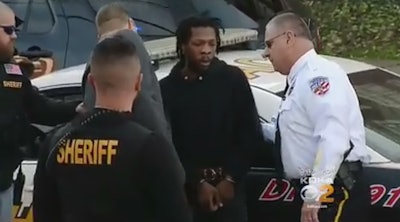 The man suspected in the fatal shooting of a New Kensington, PA, police officer is in custody.
According to police, 29-year-old Rahmael Sal Holt was arrested without incident around 5:30 a.m. Tuesday in Hazelwood. Holt is accused of killing 25-year-old Officer Brian Shaw on Friday.
The FBI, U.S. Marshals, Allegheny County Police and the Pittsburgh SWAT team made the arrest, KDKA TV reports.
Holt was transported to New Kensington, where he was led into the magistrate's office around 9 a.m. The handcuffs used on Holt belonged to Officer Shaw.
Police have been searching for Holt since the shooting happened around 8:15 p.m. Friday after police tried to conduct a traffic stop on a vehicle in New Kensington.
Holt has been charged with first-degree murder of a law enforcement officer; murder of the first degree; possession of a firearm; and carrying a firearm without a license, according to an online court docket.
According to an affidavit, Officer Shaw attempted a traffic stop of a Jeep driven by Tavon Harper, 27. The Jeep never stopped, the affidavit said. Holt, a passenger, fled the vehicle on foot while Harper drove away, the affidavit said.
It was then that Holt, being pursued by Officer Shaw, fired multiple shots, killing the patrolman, according to the affidavit. Officer Shaw, shot at least once in the chest, was taken to Allegheny Valley Hospital in Natrona Heights, where he was pronounced dead.
Harper was taken into custody Monday by Westmoreland County detectives. Harper is charged with fleeing or attempting to elude and two drug offenses. He was arraigned and is being held in the Westmoreland County Prison on $500,000 straight bond.
The Post-Gazettte reports that court records show that Holt's mother, Sherry, his cousin, Marcel Mason, and Mason's girlfriend, Aysa Benson, have all been arrested and charged with hindering apprehension.