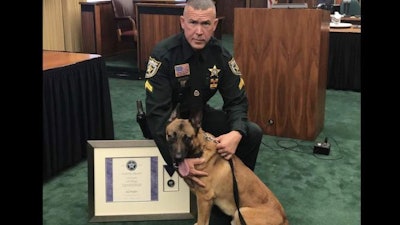 A Florida police dog has been awarded a "purple heart' medal for his heroic service to his agency.
K-9 officer Casper works for the Palm Beach County Sheriff's Office. In May, he took a bullet meant for his partner.
The bullet was lodged in his hip muscle, but fortunately, it missed Casper's bones, making his recovery faster and less complex. He is now back on duty.
The armed robbery suspect who shot the K-9 died in a shootout with deputies, WSPA reports.