Officer Brian Shaw, 25, was shot to death during a foot chase that was precipitated by a traffic stop around 8 p.m. Friday in a residential area of New Kensington, PA, reports the Pittsburgh Post-Gazette.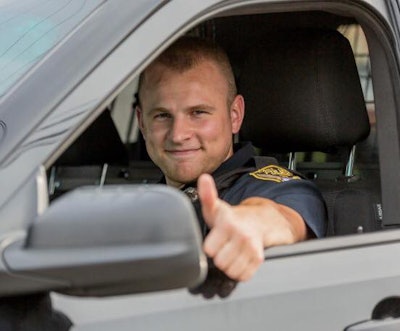 In an interview Saturday with New Kensington Police Chief Jim Klein, the chief said his officer was shot at least once in the chest. He was taken to Allegheny Valley Hospital in Natrona Heights where he was pronounced dead. The chief said Officer Shaw had been wearing a ballistic vest at the time of the shooting.
The suspect in the fatal shooting remained on the loose early Sunday. Charges of first-degree murder and the murder of a police officer were filed Saturday against Rahmael Sal Holt, 29.
Police said Saturday night that Holt should be presumed armed and dangerous and asked that anyone who spots him call 911.
Officer Shaw had just become a full-time police officer in the New Kensington department in June.