A 37-year-old man charged in the shooting of the New York City police officer Brian Moore during a routine encounter in Queens Village in 2015 was convicted on Thursday of murder.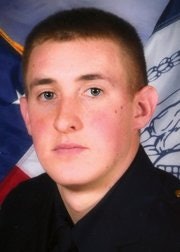 The 12 jurors, who began reviewing evidence on Wednesday, delivered their verdict against the defendant, Demetrius Blackwell after several hours of deliberations.
Though the shooting occurred more than two years ago, on May 2, 2015, it continues to resonate sadly for Officer Moore's colleagues at the 105th Precinct station house and throughout the Police Department.
On the evening of the shooting in 2015, Officer Moore, 25, and Officer Jansen were patrolling in plainclothes in an unmarked sedan looking for burglary suspects. They noticed the man Officer Jansen later testified was Mr. Blackwell, who looked up at them as he was crossing 212th Street and appeared to be trying to hide something.
They drove up on the wrong side of the road to question Blackwell, but before they could step from their car, he turned and raised a silver five-shot revolver with his left hand five feet from Officer Moore and fired.
The first shot hit Officer Moore in the left temple; the second hit a door and then lodged below his right eye; the third sailed over the police car's roof and hit a house, the New York Times reports.