The man involved in a traffic collision that resulted in the death of a South Carolina Highway Patrol trooper has been charged with a crime by the Greenville County (SC) Sheriff's Office, reports the State.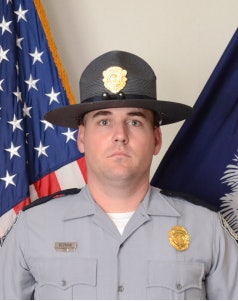 Tuan Quoc Trinh, 33, has been charged with Failure to Maintain Lane, according to multiple reports that said he fell asleep before the collision.
Trooper Daniel Keith Rebman Jr. died after his patrol vehicle was struck while he was on duty early in the morning on Oct. 24. Rebman died of blunt force trauma, Greenville County Coroner Parks Evans said.
Rebman is survived by his wife and three young daughters.