Sayfullo Saipov has been charged with federal terrorism offenses in connection with Tuesday's attack in New York City in which eight people were killed, according to a charging document from the US Attorney for the Southern District of New York. Saipov, a 29-year-old Uzbek national who was living in New Jersey, is charged with providing material support to ISIS and violence and destruction of motor vehicles.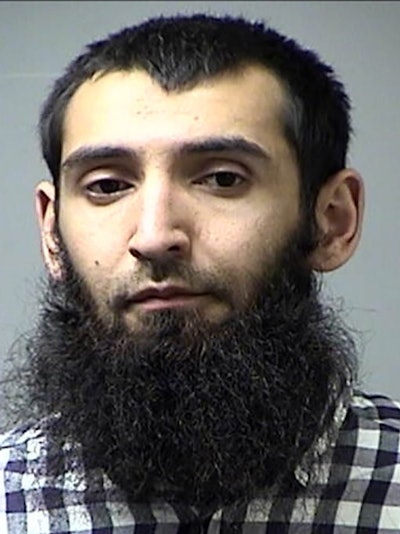 Saipov rented a truck similar to the one used in the attack several times over the course of the last several weeks in order to be familiar with operating it, a law enforcement official tells CNN.
He was said to be in critical but stable condition after Officer Ryan Nash of the New York Police Department shot him in the abdomen following the Halloween assault. But he was reportedly celebrating the deadly attack, rejoicing in his room at Bellevue Hospital, sources told the New York Daily News Wednesday.
"He's talking. He's laughing. He's very happy with what he did," said a source who was briefed by a hospital staffer on the floor. "He feels accomplished." A second source said Saipov, in his interviews with investigators, showed "no remorse" and was "glad that he did what he set out to do."
The driver who sped down a crowded bike path in New York City on Tuesday, killing eight people, had been planning the attack for weeks and appeared to have connections to people who were the subjects of terrorism investigations, police officials said on Wednesday, reports the New York Times.
As counterterrorism investigators drilled into whether the attacker had meaningful ties to terrorist organizations, it also became clear that some of those close to the attacker had feared for years that he was heading down the path of extremism.
Saipov rented a pickup truck from a Home Depot in New Jersey at 2:06 p.m. on Tuesday before crossing into Manhattan on the George Washington Bridge, the police said in the first public timeline provided by authorities. At 3:04 p.m., a camera caught him driving onto a bike path alongside the Hudson River, where the police said he appeared to be targeting pedestrians and cyclists as he mowed people down.
After crashing into a school bus near Stuyvesant High School in Lower Manhattan, he jumped out with a pellet gun and a paintball gun and shouted, "Allahu akbar," Arabic for "God is great," the authorities said. Investigators found a number of knives in and around the truck, the police said. And near the truck was a handwritten note with a few lines of Arabic indicating allegiance to the Islamic State, law enforcement officials said.
"He appears to have followed almost exactly to a 'T' the instructions that ISIS has put out in its social media channels before with instructions to their followers on how to carry out such an attack," John Miller, NYPD deputy commissioner for intelligence and counterterrorism, said on Wednesday, CNN reports CNN.