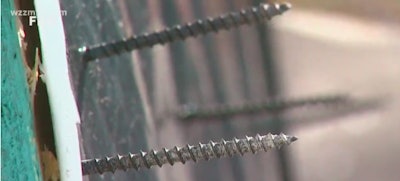 A western Michigan lawmaker wants to make it illegal to set a booby trap like the bed of screws that injured a Wyoming, MI, police officer investigating a February break-in at a marijuana grow operation.
The so-called 'booby trap' bill, sponsored by Rep. Tommy Brann, R-Wyoming, would make it a two-year felony to place "a contraption or device capable of causing injury or death.'' If someone is killed, the penalty would increase to 15 years in prison.
There are no laws in Michigan that address booby traps like the one that injured Wyoming officer Dustin Cook at a medical marijuana grow site.
The six-year veteran scaled a gate to reach a broken window at the facility. On the other side was a sheet of plywood with more than 100 three-inch, threaded decking screws pointing upward. His feet were impaled.
Existing law covering booby traps addresses spring-loaded devices and explosives, but not a bed of nails or screws on private property, Kent County Prosecutor Chris Becker told WZZM13.