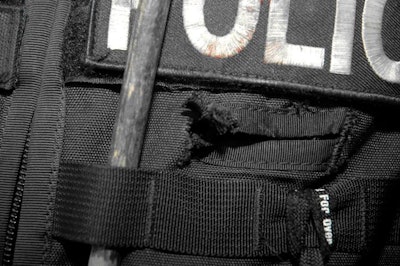 A 34-year-old would-be cop killer was sentenced Friday to 60 years to life in prison for shooting a Fullerton, CA, police officer, who suffered leg and arm wounds, but had his life spared by a bullet-proof vest.
Marcos Allen Bush, who had been acquitted of attempted murder in a separate case about a week-and-a-half prior to the shooting of the officer, was convicted March 15, 2017 of attempted murder, possession of a weapon by a felon and shooting at two inhabited dwellings. Jurors also found true various sentencing enhancement allegations for the personal discharge of a weapon, the OC Register reports.
According to Senior Deputy District Attorney Gary Logalbo, the Fullerton officer spotted a 2002 Grand Prix "kind of weaving" just after midnight on the day of the shooting and pulled the driver over at Woods and Knepp avenues.
The officer noticed the rear windows were tinted and he could not see in, but Bush told the officer the window didn't work and he couldn't open it, the prosecutor said. The officer asked Bush to show his hands, which he did several times, but then Bush withdrew back into the car, Logalbo said.
Bush also seemed to be lying when he said he was in the area to see a girlfriend because he didn't know her last name, and when he was asked for her address, he paused before looking around at street signs and settling on an address within eyesight, Logalbo said.
Bush then "came up with a .45, semiautomatic Glock," and the officer "feels the gun hit him in the chest," Logalbo told jurors in his opening statement.
A round slammed into the officer's chest, which was protected by body armor, Logalbo said.
The officer staggered back as the defendant fired off a total of seven rounds, the prosecutor said.
The officer sustained wounds to his leg and arm and a graze wound to a hip, Logalbo said, but managed to get behind his patrol car and fire off two rounds using his wounded arm as the defendant raced away in the car.