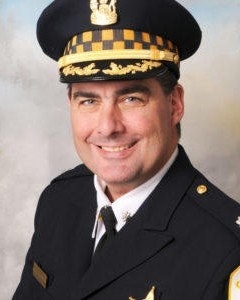 Slain Chicago Police Cmdr. Paul Bauer was shot six times, including twice in the head, according to autopsy records released Thursday by the Cook County medical examiner's office.
Shomari Legghette, a four-time felon, was arrested at the scene and indicted on 56 felony counts of first-degree murder, armed violence, and weapons and drug offenses. Prosecutors intend to seek a life sentence for Legghette, 44, if he is convicted of Bauer's killing. He has pleaded not guilty, the Chicago Tribune reports.
Bauer, 53, a 31-year department veteran who headed the Near North patrol district, was shot twice in the head, twice on the right side of his chest, once on the left side of his neck and once in his right forearm during the Feb. 13 attack, the autopsy report showed.
Officers found a loaded 9 mm handgun in Legghette's coat pocket, as well as heroin, marijuana and cocaine, authorities have said.