A man who recently pleaded guilty to almost slicing a Salt Lake City police officer's ear off has filed a federal civil rights lawsuit against that officer claiming he used excessive force first.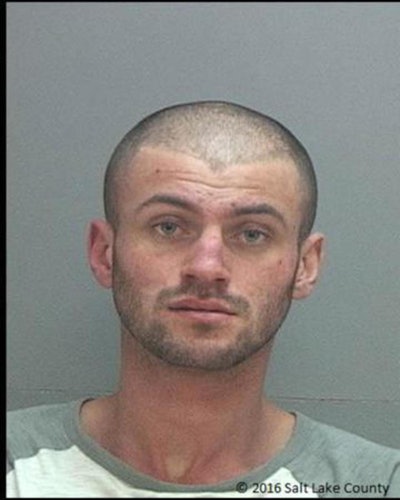 Leon Dane Hall, 25, of Salt Lake City, filed a civil lawsuit in federal court Monday against Salt Lake City officers Conrad Leong, Tyler Bang, Cody Wilkes, Miles Southworth, and Livsey Harrison, claiming his constitutional rights were violated when police used "unlawful detention and brutal, violent use of force and excessive force against Mr. Hall when no force at all was necessary and the physical altercation was instigated by one of the officers," reports the Deseret News.
On Feb. 2, 2016, Salt Lake police responded to reports of a man banging on doors at the Pauline Apartments late at night. Officers originally claimed Hall refused to give them his name or personal information. When the officers attempted to take him into custody, Hall resisted and shouted for the officers to stop touching him, according to charging documents.
As they attempted to push Hall into a patrol car, he began swinging at them and screaming. The officers attempted to bring Hall into compliance by using their batons on his chest and legs as he yelled "Stop!" and "Help!" the charges state.
As Hall and an officer fell to the ground during the struggle, Hall pulled out an 18-inch cast-iron lawn ornament with jagged edges and swung it at officers, nearly severing officer Bang's ear. It eventually took five officers to arrest Hall.
On Monday, Hall claimed it was the police who escalated an otherwise peaceful situation and unlawfully detained him and used excessive force.
He is seeking about $1.8 million in damages, according to the lawsuit.