Kentucky police have arrested a man who was wanted for questioning relating to the shooting death of a police officer earlier this week.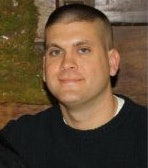 Pikeville Police Department Officer Scotty Hamilton was shot and killed in the line of duty late Tuesday night in Pike County, Kentucky. Investigators later obtained an arrest warrant for John Russell Hall, 55, of Pikeville, for possession of a firearm by a convicted felon. Investigators want to question Hall about Hamilton's death, according to a press release from the Kentucky State Police on Thursday morning.
Kentucky State Police arrested Hall without incident around 11 a.m. ET in the Stoney Brook area in the Betsy Layne community of Floyd County, officials told ABC News.