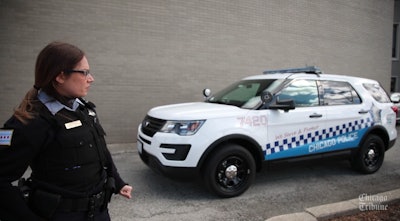 Chicago police Officer Jennifer Jacobucci drew inspiration from a lot of influences, including psychedelic rocker Jim Morrison, as she sketched out what would become the winning images, colors, and other designs adorning the department's new squad cars.
Now the department is rolling out the first of the 2018 Ford Police Interceptor Utility models with her design. The SUVs are white, with the lower part of the doors stamped with two rows of dark blue and gray checkerboard. Below that is white-on-blue lettering with the words "CHICAGO POLICE." Above the checkered pattern is the red-lettered motto "We Serve & Protect." A large blue police star sits above each rear tire, reports the Chicago Tribune.
Jacobucci, a 12-year veteran assigned to a detail at O'Hare International Airport, said the colors are meant to make the car approachable, but the lines symbolize authority. The entire design is meant to create movement, she said.
The first newly marked police car will be deployed soon in the Englewood District, and the rest of the estimated 500 cars will be rolled out across the city based on the needs and vehicle replacement schedule for the various districts, said Anthony Guglielmi, spokesman for the department.