Code 3 Inc., a leading manufacturer and developer of light and sound emergency products, has announced the launch of the multipurpose M180 Triple Stack.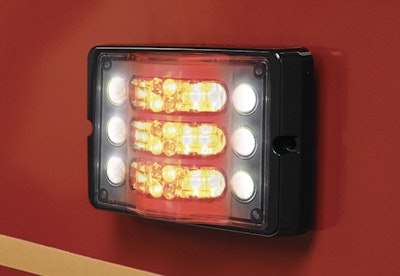 The M180 Triple Stack combines the functionality of a warning light and the utility of a worklight in a compact, bright package perfect for mounting on bumpers, on aftermarket push bumpers, and on the sides of any emergency vehicle. Utilizing three rows of lighting, the M180 Triple Stack produces a bright, off-angle 180-degree warning light that can be easily switched over to be used as an alley light, intersection light, or worklight.
"Building off the success of our M180 multifunctional light, the new M180 Triple Stack utilizes the same optic design and worklight functionality but in a triple stack form factor that packs a punch with light output and off-angle effectivity," said Bryan Lohbeck, product manager.
The M180 Triple Stack is available in single color and multicolor. Each model is 3.4 inches high, 5.1 inches in width, and 1.4 inches in depth. All models meet SAE J845 and SAE J595 Class 1, California Title 13, R65, R10 requirements, and are IP67 rated. Models are also NFPA and KKK-A-1822F certified when properly configured. The M180 Triple Stack comes with a five-year warranty.
For more information, visit www.code3esg.com.