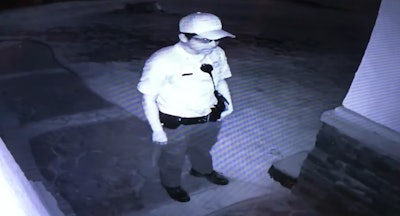 A 14-year-old was arrested after he was captured on a surveillance video attempting to impersonate a San Bernardino County (CA) Sheriff's Deputy Reserve and has since been tied into other incidents, officials said.
The latest incident of the teenager attempting to impersonate a sheriff's deputy was captured on a homeowner's camera system at about 6 pm, on Monday, March 5, 2018, in Victorville.
During the investigation, Detectives also learned the juvenile had two additional contacts the same night, posing as a law enforcement officer. He initiated a traffic stop on a red vehicle, driven by a female adult, in the area of Amethyst Road. After obtaining the female's information he gave her a warning and let her go. The other incident occurred in the area of Cobalt Road. The suspect again activated the emergency lights mounted in the vehicle, causing a white male, approximately 16-years old, to come out of his house. The suspect again claimed to be investigating a domestic disturbance call. When he was told, there was no disturbance, the suspect left.
The suspect, who is on probation, was arrested and booked at High Desert Juvenile Detention Center, the Victor Valley News reports.