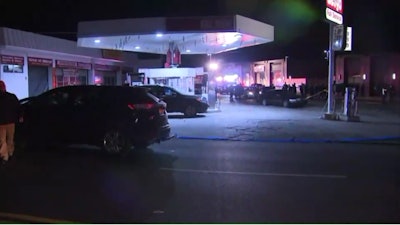 VIDEO: Off-Duty NYPD Officer Fatally Shoots Armed Robbery Suspect
An off-duty New York Police Department officer fatally shot a suspected armed robber during a holdup at a Brooklyn gas station Monday night, police sources said.
It happened around 10:35 p.m. at a gas station at 914 Remsen Ave in Canarsie.
Police said the off-duty officer was there to fill his personal car with gas, and two armed men approached, reports PIX11.
One of the armed men entered the station attendant's booth and demanded money from a worker while the second man remained outside and told the off-duty officer and the gas station attendant not to move.
A loaded .44-caliber revolver was recovered at the scene.
"As the two suspects exited the gas station, the off-duty officer identified himself as a police officer and gave them verbal commands to stop. The two suspects turned around towards the officer with the guns in their hands," NYPD Chief of Patrol Rodney Harrison said.
The officer then fired and struck one of the men in the torso.
The man was taken to a hospital where he died. The other suspect fled on foot and is still at large.
The NYPD said the officer was not injured.