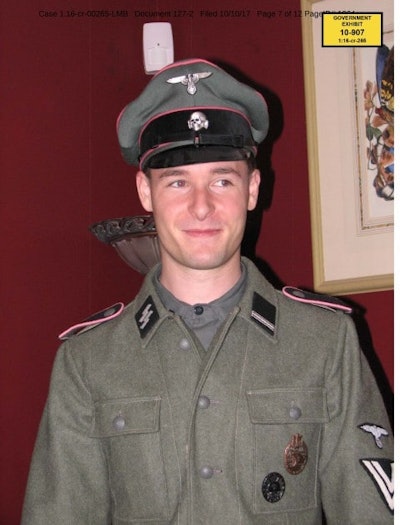 A former police officer with the D.C. Metro transit system will spend 15 years in prison after getting caught in a terrorism sting operation, even as he continues to argue that he is not an Islamic State supporter but a misunderstood patriot.
Nicholas Young, 38, was found guilty at trial last year, after failing to convince a jury in Alexandria federal court that he was lured by law enforcement into lying for and giving financial support to a supposed Islamic State recruit. The recruit was actually an FBI informant, identified in court only as Mohammed.
"I'm sorry for letting my friends down, letting my family down," Young, the first member of law enforcement to ever face terrorism charges in the United States, said in court Friday. "Those people in my life deserved better from me."
Young, who converted to Islam in 2006, was under FBI surveillance for years before his 2016 arrest. Twice he traveled to Libya to fight with anti-government rebels there. His attorneys say they believe the investigation began with a dispute between Young and his superiors at the Washington Metro Transit Authority over the length of his beard and his workspace, where he kept a Koran. Young had also come into contact with undercover agents who were tracking other terrorism suspects in his circle.
At trial, prosecutors presented violent videos Young had watched and comments he had made about killing FBI agents and attacking federal buildings. In emails with Mohammed and conversations online, Young joked about terrorist attacks and suggested they were often justifiable. He described the rebels he fought with in Libya as "like-minded" with the Islamic State, the Washington Post reports.
Prosecutors also highlighted Young's interest in Nazism, alleging he was a believer in an alliance between Islamist and white supremacist terrorism. He had dressed up as a Nazi officer in war reenactments and had a tattoo of an S.S. logo on his arm. He gave a neo-Nazi novel to a friend for his birthday.