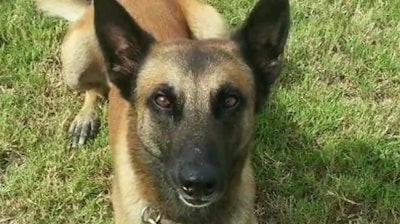 VIDEO: Houston K-9 Put Down After Injuring Leg Chasing Suspect
A Houston Police K-9 was injured Tuesday night chasing a suspect and had to be euthanized.
Houston Police Chief Art Acevedo told ABC13 it all started when officers tried to pull over a stolen car around 1 a.m. That led to a chase that ended with the suspect running into a wooded area.
The K-9, Rony, was deployed to pursue the suspect and seriously injured his leg after he got stuck on a log or some other type of wooden object.
"Essentially, what happened was, his elbow shattered so there were breaks in multiple different places," said veterinarian Dr. Laura Ron with Vergi Animal Emergency Hospital where the decision was made to put Rony down.
Dr. Ron said prior to this injury, Rony had suffered previous injuries and he had bad arthritis in his other three legs, which left her with no treatment options.
"Amputating his leg would not be fair because that puts a lot more weight on his remaining legs that would make them fail and they're already on a lot of medications so even though it was the most horrendous of options, it was the most fair for the dog," said Dr. Ron.