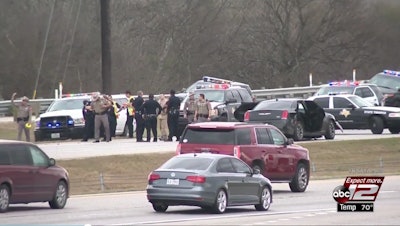 VIDEO: Texas Trooper Wounded in Shootout After Traffic Stop
A Texas Department of Public Safety Trooper and a suspect were airlifted to University Hospital after a shootout unfolded along I-10 East Sunday afternoon.
According to DPS spokesman Deon Cockrell, the shootout happened after the suspect gave the trooper a false name during a traffic stop, resisted arrest, and fled, leading the trooper on a chase, reports KSAT.
The trooper was able to stop the suspect, but when the suspect got out of the car, Cockrell said the suspect fired at the trooper and the trooper returned fire. Both were shot.
The trooper was flown to University Hospital in the DPS helicopter after suffering a gunshot wound to the arm, according to scanner traffic. The suspect was taken to the same hospital via AirLife, also with a gunshot wound.
Cockrell did not provide the condition of the trooper or the suspect.