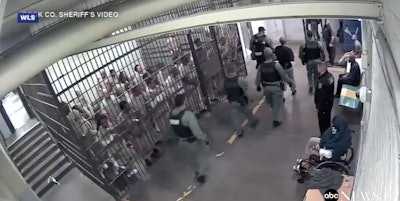 VIDEO: Chicago Jail Inmates Applaud Suspected Cop Killer
As many as five jail inmates in Chicago may face additional charges for clapping as the suspected killer of Chicago Police Cmdr. Paul Bauer was escorted from his first court appearance on Thursday.
The Cook County Sheriff's Office released surveillance video that shows a group of detainees waiting in a holding cell to see a judge after suspect Shomari Legghette's bond hearing.
"We are taking all the action in our power to address this horribly despicable behavior," Cara Smith, chief policy officer for the Cook County Sheriff's Office, said in a statement to ABC News. "We've forwarded the video to the Cook County State's Attorney's Office for consideration in sentencing."
The sheriff's office told ABC News it has begun transferring inmates involved to other jails in Illinois that work with their office.