Davie, FL, Police detectives have arrested a 6th grade student for writing a letter threatening to kill students and teachers at Nova Middle School, reports WSVN.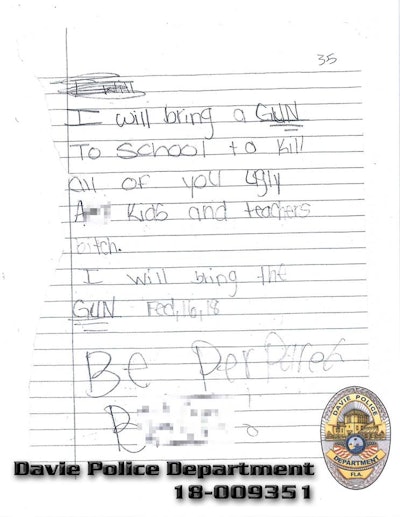 According to an arrest report, the 11-year-old placed a handwritten note under the assistant principal's office door that read, "I will bring a gun to school to kill all of you ugly ass kids and teachers [expletive]. I will bring the gun Feb, 16, 18. BE prepared [expletive]!"
Police said they have surveillance video showing the student putting the note under the door.
She also provided a written confession to school administration.
The student has since been transported to the Broward Juvenile Assessment Center, and she is expected to appear in juvenile court Friday.