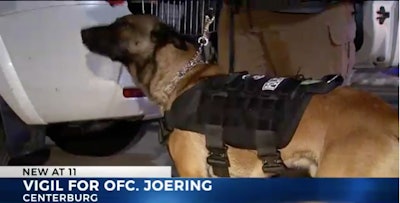 VIDEO: Slain Ohio Officer's K-9 Attended Vigil, Will Live with Family
The K-9 partner of an Ohio officer who was killed in a shooting Saturday attended a vigil in his honor.
K-9 Sam was in the back of Officer Eric Joering's police vehicle during the shooting. He wasn't hurt, WKRN TV reports.
Sam's original trainer, Mike Pennington, got him from the shooting scene that day. He says Sam was scared and shaken up.
Pennington says Sam is hurting. Despite his pain, he has traded in his K-9 badge for the title of therapy dog, bringing comfort to Officer Joering's children.
Tuesday, the Fraternal Order of Police said it was decided Sam would be retired, instead of training with a new handler, and would go to live with Joering's wife and young daughters. FOP President Jason Pappas said it will take a resolution by Westerville city government to officially make it happen, ABC6 reports.