The names of the Locust Grove, GA, police officer who was killed and two Henry County, GA, sheriff's deputies who were wounded in a shooting when they tried to serve an arrest warrant Friday have now been released.
The Georgia Bureau of Investigation released photos of slain Locust Grove police Officer Chase Maddox and Henry County sheriff's deputies Michael D. Corley and Ralph Sidwell "Sid" Callaway.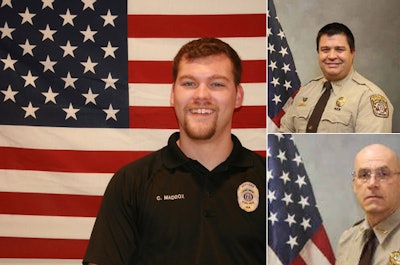 Officer Maddox, 26, had been working for the department since he was 22. Maddox is the only officer the department hired out of school and was described by Locust Grove Mayor Robert Price as a "smart young man." His wife is expecting their second child.
According to Henry County Sheriff Keith McBrayer, one deputy underwent surgery for serious injuries and another was in fair condition. One of the deputies has now been released from the hospital, according to Channel 2. He was wearing his ballistic vest, which blocked the bullet. The second deputy remained in the hospital after he was shot in the stomach. He was also wearing a vest, reports the Atlanta Journal-Constitution.
The suspect was killed, reportedly by fire from one of the wounded law enforcement officers. He has been identified but his name has not been released.
McBrayer said the deputies were serving the warrant when they ran into trouble and called the Locust Grove officer in for backup. The sheriff said all of the shots were fired inside the residence.
The deputies serving the warrant had "no reason to expect the suspect would be violent," McBrayer said.