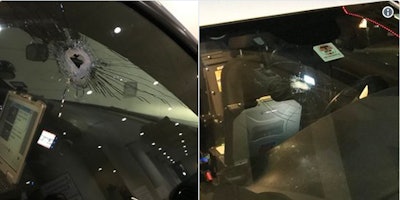 A search was launched Thursday morning for the person who opened fire on a Dallas police squad car.
According to police, a police officer was driving eastbound on Interstate 30 near Interstate 45 about 2 a.m. when the passenger window was shattered by gunfire. The officer was wounded by flying glass, but was not shot, police said. The passenger door was also shot, police said.
Dallas Sergeant Michael Mata tweeted photos showing bullet holes in the windshield and passenger window of the car. He wrote, "real lives are affected by this false narrative of a war on the police! Some coward shot at our officers!"
Real lives are affected by this false narrative of a War on the Police! Some coward shot at our officers ! pic.twitter.com/oz4yyuLf75

— Michael Mata (@mmata7313) February 8, 2018
Officers said they did not find the gunman, though several shell casings were discovered at the scene, NBC DFW reports