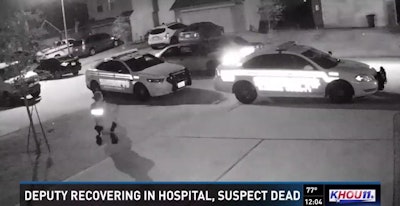 VIDEO: TX Deputy Shot by Handcuffed Suspect
A Harris County (TX) deputy is recovering in the hospital after being shot by a man who was being arrested overnight at a house in North Harris County.
The more than three hours long standoff finally came to an end around 12:20 a.m. Thursday, after a Harris County SWAT Team's robot was sent in and located the suspect dead with a gunshot wound.
Investigators are still working to see if their deputies shot him, or if the man took his life during the standoff, WFAA TV reports.
Investigators say this all started when deputies went to the home late Wednesday night to investigate a deadly conduct charge from earlier Wednesday evening.
Investigators said when deputies tried to arrest him, he shot one of them in the forearm, while still handcuffed.
He also hit another renter living in the home, several times.