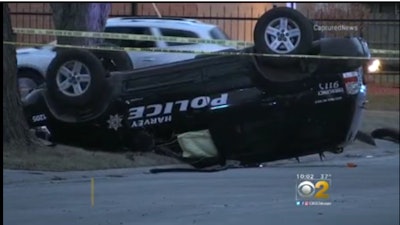 VIDEO: IL Officer Hit by Suspect Stealing Patrol Car, Suspect Shot
A Harvey, IL, police officer shot a suspect after the suspect reportedly hit the officer with the officer's patrol car Wednesday afternoon.
The incident began around 4:30 p.m. Police responded to an accident involving multiple vehicles at the intersection and observed three people fleeing on foot.
One officer gave chase in a police car, according to Harvey spokesperson Sean Howard, while another stayed behind to help injured people at the accident scene.
After confronting the pursuing officer, one of the suspects jumped into the officer's vehicle and tried to hit him. The officer shot the suspect, who crashed and flipped the police vehicle.
The officer was hit by the vehicle and underwent surgery. The injured suspect was rushed to the hospital, where he's expected to recover, CBS Chicago reports.