Garrett William Nee has been sentenced for his actions on Father's Day, June 19, 2016, when he led police on a pursuit, causing a crash that killed Patton Village, TX, Police Sgt. Stacey Baumgartner and a young boy in his family's car, reports the Montgomery County Courier.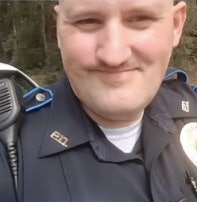 Nee was sentenced to 15 years in prison Tuesday after he was found guilty of four felony charges late last week stemming from the deaths of Baumgartner and 11-year-old Adan Hilario Jr. in the wreck.
Two charges were for evading arrest/detention causing death, and the other two for evading arrest/detention causing serious bodily injury due to the injuries of two other Hilario family members, who were also in the car that collided with Sgt. Baumgartner's in an intersection during the pursuit.
"This was a very difficult case," Montgomery County Assistant District Attorney Tyler Dunman said. "This case was unique in that it had a death of a police officer and the death of a child, so it was a very emotionally charged case from both ends."
Baumgartner is survived by his wife and young daughter, who were present in court when the punishment was read.