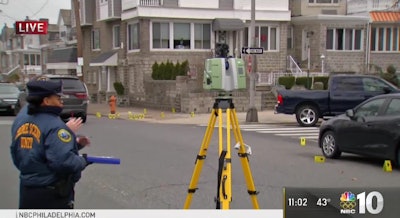 VIDEO: Off-Duty PA Officer Shoots Driver Who Was Trying to 'Run People Over'
An off-duty Philadelphia police officer stopped the threat by shooting a driver who struck a pedestrian and was apparently trying to run down other people in South Philadelphia Monday morning.
A bicycle officer saw a black Honda erratically driving down Broad Street and radioed it in around 7:30 a.m., Philadelphia Police Capt. Sekou Kinebrew said. "This driver was apparently attempting to run people over," he said.
The driver then struck a man at Marconi Plaza, Kinebrew said. The force of the crash caused the pedestrian to go up onto the hood of the car and into the windshield, reports WCAU.
An off-duty officer, who just happened to be in the area, heard the radio call and saw the commotion and so responded to the scene.
The off-duty officer approached the suspect, who is around 6 feet tall and weighs around 250 pounds. The two began to fight after the suspect began to attack the officer, Kinebrew said.
During the struggle, the officer shot the man one time in the head, leaving him in critical condition, Kinebrew said.
The pedestrian that was struck by the car was listed in serious condition and was expected to survive his injuries, police said.