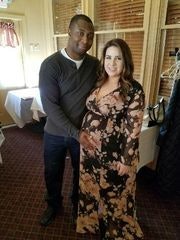 Detroit police officer Glenn Anthony Doss, who was shot in the head while responding to a domestic violence call Wednesday, died Sunday.
On Saturday, Wayne County Prosecutor Kym Worthy charged Decharlos O. Brooks, 43, with eight counts of assault with intent to murder, seven counts of resisting and obstructing, one count of carrying a dangerous weapon and 17 counts of felony firearms. The charges will likely be revised.
Police said Doss was among the officers responding to a 10:30 p.m. call Wednesday from someone believed to be Brooks in a domestic violence case at a home in the 5500 block of McDougall, near Interstate 94 and Chene Street.
When officers arrived, Brooks was outside of the home and allegedly fired at them. Doss was a passenger in one of the patrol vehicles when he was hit, the Detroit News reports.
A GoFundMe page was set up for Doss' girlfriend of nine years, Emily Crouse, and their son, 9-month-old son, Eli. By Sunday, the page had raised more than $16,000.
Mark Diaz, president of the Detroit Police Officer's Association, the union that represents Detroit police officers, said that the city of Detroit does not customarily pay for funerals of officers who die in the line of duty.