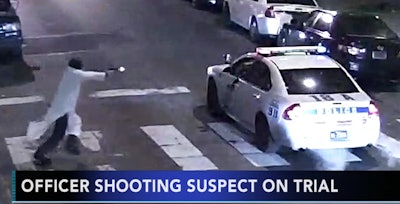 VIDEO: Trial for Philly Officer's Accused Shooter Begins
The trial of a man charged with shooting a police officer in West Philadelphia at point-blank range two years ago got underway Thursday in a Center City courtroom, reports WPVI.
The trial for 32-Year-old Edward Archer opened with statements from both the prosecution and the defense.
But even before that, as each charge was read, Archer - rather than entering a plea of guilty or not guilty - replied, "I don't plead to anyone but Allah."
Judge Leon Tucker then entered a plea of not guilty.
The prosecution said during the trial, jurors will see video, physical evidence, and hear from witnesses about the night of January 7, 2016.
Officer Jesse Hartnett was shot three times while sitting in his patrol car at 60th and Spruce in West Philadelphia.
His left arm was shattered by gunfire, leaving him unable to work as a police officer. Prosecutors say he has had 11 surgeries.
Police said video from the intersection shows Archer approaching the cruiser, charging the driver and firing 13 times. Prosecutors detailed how Hartnett kicked the door of his vehicle open and chased after Archer, firing 7 shots, one of which hit Archer in the buttocks. Responding officers then arrested him nearby.