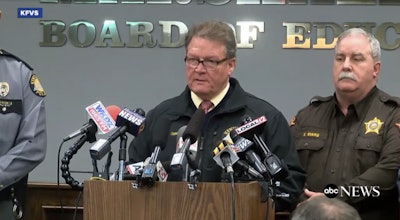 VIDEO: Two Killed, 17 Injured in KY School Shooting; Suspect in Custody
Two teenagers have died and 17 other people were wounded from gunfire or injured in the chaos after a shooting at a Benton, KY, high school shortly before 8 a.m. this morning. The suspect, a 15-year-old male student, was taken into custody.
A 15-year-old girl, later identified as Bailey Nicole Holt, died at the scene and a 15-year-old boy, later identified as Preston Ryan Cope, died at the hospital, ABC News reports.
The suspect will be charged with two counts murder and multiple counts of attempted murder, according to Rick Sanders, Kentucky State Police commissioner.