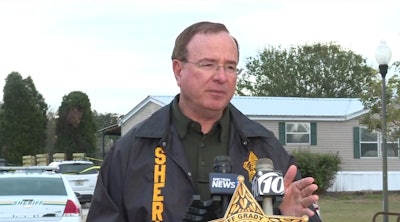 VIDEO: Suspect Fatally Shot After Firing AR-15 at FL Deputies, Sheriff Says
A suspect is dead after firing an AR-15 rifle at deputies, Polk County Sheriff Grady Judd said.
According to Judd, the incident began as a domestic violence situation. About 8 a.m, deputies were called to the home on College Hill Road in Lake Wales. The wife and daughter of Shannon J. Cables, 46, said he had threatened his wife with a long safety pin, then struck the wife with a pool cue and used mace on them.
During the incident, Cables pointed a gun at the women, but the 19-year-old daughter tackled him and got the gun away. The women then fled the home. Cables fled into the woods.
The wife was taken to the hospital. Deputies remained at the home.
As deputies arrived escorting the women home that afternoon, one of them saw Cables emerge from the woods, carrying the AR-15 and a shotgun.
One of the deputies confronted Cables and told him to put down his weapons. Instead, Cables opened fire with the AR-15, Judd said.
The deputy returned fire. Two deputies emerged from the back door of the home and also opened fire.
Cables was struck and stopped firing. He later died at the hospital.
No deputies were injured.
"The message is abundantly clear," Judd said. "You don't point firearms at our deputies. And if you do, we're going to shoot at you. A lot."