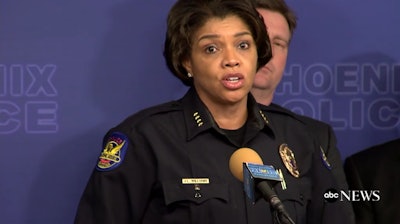 VIDEO: AZ Suspect Linked to 9 Murders in 3 Weeks, Police Say
A homicide suspect in Arizona is accused of committing nine murders in just three weeks, Phoenix police said Thursday.
Cleophus Cooksey Jr., 35, has been in custody since the last of the nine alleged killings on Dec. 17 when police say he shot and killed his mother and stepfather.
But after he was arrested, police kept "digging," Phoenix Police Chief Jeri Williams said today, and discovered seven other fatal shootings in the area they say are connected to Cooksey, reports ABC News.
The nine homicides spanned from Nov. 27 to Dec. 17 in Phoenix and nearby Avondale and Glendale, police said.
Glendale Police Chief Rick St. John said the cases came together thanks to a patrol officer who answered the call and was "doing the right things: Taking a person into custody, recognizing there were abnormalities to his behavior. He was trying to conceal what was going on. The officer very appropriately took the right actions. ... And that all occurred before the agencies really started to collaborate."
He said he is "proud as heck" that the suspect is "off the streets."
When asked if there could be more victims, police said that is a "distinct possibility" and a "concern of our investigators."
Officials said Phoenix is one of the few cities chosen by the Department of Justice for The National Crime Gun Intelligence Center Initiative, which allowed the Phoenix police to test shell casings at their headquarters; testing that used to take weeks can now take just hours.