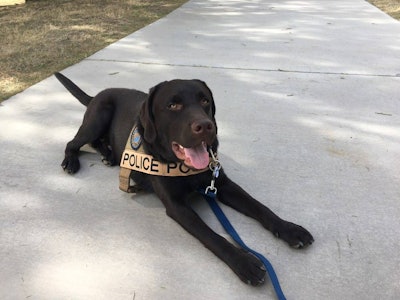 The Scottsdale (AZ) Police Department used its Facebook page to ask the public to help it name a new crisis response dog. And the public chose the name: Chase.
A Labrador retriever, Chase is a replacement for Fozzie, a dog that died last year. The department says Fozzie was the nation's first Crisis Response Canine. "Since SPD began this program 10 years ago, numerous public safety agencies followed suit. There are now crisis canines serving communities throughout the United States and Canada," the Facebook post says.
The department says Trish Dittman from Zona Labradors - Lifelong Companion's That Steal Your Heart, donated the English chocolate Labrador to the department and Julie Banfill with Dogology Contemporary Canine Services has offered to train him.
"This noble canine and partner will comfort crime victims and witnesses and provide solace for people experiencing their darkest days. In addition, this Crisis Response Canine will serve as a goodwill ambassador, help with community outreach, visit schools, and provide emotional support to our public safety professionals serving the community under difficult and stressful conditions," the department said.
More than 3,600 people participated in the naming.