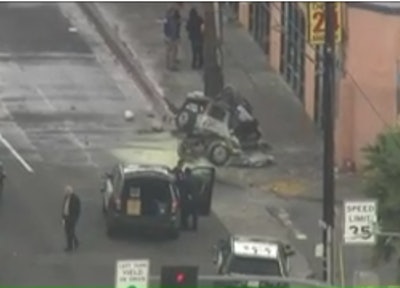 One person is dead and another hospitalized after a Gardena Police Department pursuit ended an apparent crash and a vehicle catching on fire Tuesday morning.
Firefighters were called to the scene about 10:30 a.m. by the Sheriff's Department, Los Angeles County Fire Department Inspector Joey Marron said.
Sheriff's officials said the end of a pursuit resulted in a vehicle fire, Marron said. A sheriff's spokesperson told KTLA it was a Gardena police pursuit, and that the Sheriff's Department responded only to help with traffic and crowd control.
Aerial video from KTLA showed a Jeep-like SUV had apparently crashed into a power pole and was totaled; about a dozen police vehicles were on scene.